Here we have a plain and straightforward marijuana candy recipe. Making weed candy doesn't have to be a daunting task.
Cannabis hard candy is not only a tasty solution, but it's also a safer way of consuming ganja as there is no smoke. That especially goes for elderly folks and children (medically prescribed of course).
It's also discreet. You won't be raising any suspicion as there's nothing to hide. However, the dosage is essential, so it's best not to go wild for everybody's sake.
The same recipe works for lollipops! You need to get your hands on some lollipop sticks.
Ingredients
One to two tablespoons of prepared tincture are a must, as well as 1/4 cup of Cannabutter. You have to have a cannabis component and a butter component.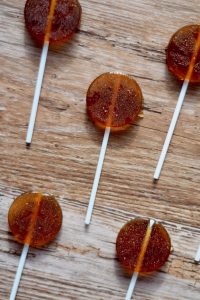 In case it's your first time trying out edibles, or are aiming for a lower weed dosage, you can use regular butter and then add the marihuana tincture. If you are a seasoned edible consumer, you can use cannabutter and add the tincture as well.
20 candy molds or lollipop sticks.
Small heavy saucepan.
Candy thermometer.
1 Box (3 ounces) of Jello, any flavor.
1/2 cup light corn syrup.
3/4 cup sugar.
In case you don't have mold, there's another way. Create a layer of icing sugar. You can do it by smearing it on a pan.
After that, make dents in the icing sugar. Any size will do; it depends on your preference. Now you have your candy mold.
Directions
The procedure is quite a time-sensitive, so it is best to prepare everything in advance.
Grease the candy or lollipop mold before you begin. We don't want the candy to stick to the surface. However, you needn't worry about it if you are using the icing sugar molds.
Pour the corn syrup, sugar, and the butter into the pan. Make sure it is on low heat. Stir until the sugar completely dissolves.
While stirring, bring the mix to a boil – slowly. Careful though not to get burned, the combination is hot. Mind it at all times.
It's time to bring in the thermometer. Insert it into the pot and wait until the temperature reaches 275°. Don't forget to stir frequently.
Now, the final part must be carried out quickly.
You can remove the candy thermometer once it displays 275°. After that, pour the Jello and the tincture into the pan and stir real fast until everything's smooth.
Take the pan off the heat, collect the mixture with a metal spoon and use it to fill in the molds. Again, you'll have to be quick about it as the combination sets very quickly.
Don't put it in the fridge.
Once the candy has cooled, it is best to coat it a bit in icing sugar. That way, the candies won't stick to each other.
Useful Links