Want to know how to make a bong out of a glass bottle from water, beer, wine or liquor?
This is a cool DIY project to pick up as it is not going to take as long as you may think. It's all about preparing with the right materials and starting as soon as you can.
Here are the steps you need to keep in mind.
Find The Right Bottle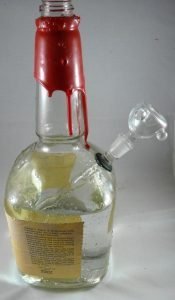 You will want to find the right glass bottle. It's important to get something that is larger and is going to give you enough room for error. A smaller liquor bottle can make it harder to get the hole spot on when you start drilling.
Use Glass Drill Bits
It is time to go out and find the right glass drill bits.
These drill bits need to be able to manage with glass, or you are going to break the bottle. Regular drill bits aren't going to cut it!
Place Duct Tape Where The Hole Will Be
Start preparing where the hole is going to go. This should be somewhere near the upper third of the bottle but closer to the middle. Don't push all the way up to the top!
At this chosen spot, you want to place a small piece of duct tape to protect the bottle from cracking.
Drill Through Duct Tape
It is time to start doing the hard work, and that's drilling.
You will carefully drill into the center of the duct tape while making sure your drill doesn't move all over the place. Be precise and make sure the hole is big enough for a bong's stem.
Find Appropriate Bong Stem
Take out the bong stem and make sure it goes through the hole cleanly. If it doesn't, you are going to have to work on the gap again to make sure it is the right size.
Take your time with this step to get it spot-on.
Clean Up
The last step is to let it cure overnight, and you're going to be well on your way to a beautiful homemade glass bong. It's all about taking your time with this process and making sure you don't skip anything.
Once you are done, start to clean up and have it sparkling before you use it. This is going to ensure it is not contaminated!
These are the details you need to know on how to make a bong out of a glass bottle.