So, after hundreds of interviews, you've finally landed the job that you've always dreamt of. Your first day is tomorrow, and you decide to celebrate it properly with your college mates.
The night goes by, and you do pretty much everything you can think of. You wake up, open up your email, only to find out that you missed the fact that there is a piss test the first day to test for drugs and alcohol. If yesterday was the happiest day of your life, you currently feel as if that's the most devastating one.
Don't worry, though, as we are here to provide you with a helping hand. This is precisely where synthetic urine comes into the picture, and we have the product that is going to save your ass. Monkey Dong comes into view to save the day.

In a hurry? Jump to conclusion or order Monkey Dong now.
What is the Monkey Dong?
The Monkey Dong by Serious Monkey Bizzness is a urinating device that people use to overcome a urine drug test. It goes without saying that a similar test is not going to make an accurate judgment on your character. Therefore, cheating on a drug test doesn't do you much harm. The thing is that you must not get caught. Monkey Dong has been made in a way which allows you to handle things as per the highest standards.
The device that's in the package comes with fake pee, and it has been made using the latest technologies in the field. Keep in mind that the lab tests are only checking the ingredients and chemicals in your urine, so as long as the urine formulation is accurate, you wouldn't have to worry about a thing. Now, let's dig a little bit deeper into the product and see what to expect.
Package Contents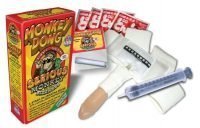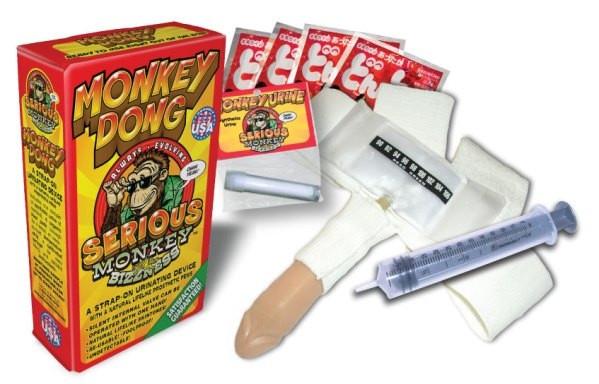 When you purchase the Monkey Dong, apart from the variety of color options, you can expect to receive the following items in the package:
1 syringe which is used to refill the flask
One set of instructions on how to use it
1 dehydrated synthetic urine
4 packs for organic heating
1 elastic belt – this can fit a waist up to 54 inches
1 urinating, strap-on device
We were able to confirm that the fake piss in this package does contain uric and urea – these are the most important chemicals that you'd have to rely on to pass the test. This is something important as a lot of the products on the market would only contain uric acid and not urea – that's how you fail the test quickly.
If you're looking for female/unisex version, the same company offers Monkey Whizz product.
Available Colors to Match Your Skin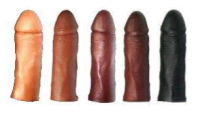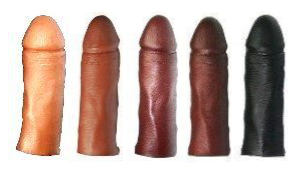 It goes without saying that the color of the prosthetic penis needs to be matching your own. It's the main reason for which the company has managed to manufacture the product in a few different colors.
As of this moment, there are 6 available colors, including black, Latino, tan, white, light white, and brown. You can choose the one which best matches your skin color to ensure that everything is handled correctly and that there is entirely no doubt when it comes to using the product.
See more details here.
Monkey Dong Instructions
It is honestly not that hard to use the product if you follow the instructions which are included in the packaging. Once it arrives, you should get the genuinely hilarious package opened and equip it. Make sure that you heat up the urine to about 96 degrees as this is the natural temperature of your own piss – it's something the lab will test for.
The entire thing is held with a belt that strapped around your waist, and you just pull it out when you have to pee in the cup.
The urine flask itself is made in a manner which is going to hold the high temperature for about 8 hours so you don't have to worry about it getting colder. Just pre-heat it before you leave your home, and you should be good to go. It does an excellent job of maintaining the temperature, and this has been tested so it's not something you should be concerned with. It's pretty much everything you need to do – pre-heat it and strap it around your waist, and you are good to do your monkey business.
Does it Work For Passing a Drug Test
That's one of its primary designations. Even though there are a lot of different reasons for which people tend to purchase fake piss, passing a drug test is naturally the number one purpose.
It does a splendid job when it comes to it. The synthetic urine is made with the necessary combination of ingredients and chemicals, and it is well balanced to ensure that the lab won't identify it as fake. It's the perfect solution to your last-day worries if you've been caught unexpected with a surprise drug test at work or school.
Keep in mind that there are quite a lot of options on the market but the Monkey Dong is one of the best options out there as it is perfectly reliable. The manufacturer is also constantly updating its formulation to ensure that the latest lab advancements are accounted for.
Where to Buy & Cost
We would strongly recommend to NOT purchase it from online retailers such as eBay and Amazon. This is going to help you avoid purchasing counterfeit or expired products. At the same time, the price is likely to be lower when you are buying it from the authorized dealer.
Even though we've never actually seen the product on the shelves of a brick and mortar store, we'd personally suggest that you don't buy it there. Shipping is almost instant and this is not something that you have to be worried about, so just get it ordered.
The cost could vary as the manufacturer is making comprehensive discounts based on the quantity that you buy. So, if you decide to buy in bulk, you can receive a substantial discount.
Click here to see the best price.
Monkey Dong vs. Whizzinator
If there is one product which is closest to the Monkey Dong in the fake piss field, it's the Whizzinator Touch. The latter has a very similar system which also includes the heating pads and pretty much everything in the package.
However, the Whizzinator has got the color tones completely wrong while being nearly twice expensive and this could really be a deal breaker. Also, the materials used in Monkey Dong are more lifelike and don't contain any metal (therefore won't make a sound on impact).
Furthermore, the fake pee in the Monkey Dong flask is lab-grade and has real uric acid, correct pH, color, scent and foam just like real pee.
You can buy synthetic urine refills separately both as dehydrated and pre-mixed versions.
Conclusion
All in all, if you've been caught by surprise by a drug test, there really aren't a lot of options in front of you. Using fake piss is without a doubt the easiest way to go around it and you should do so without thinking too much.
The Monkey Dong is the product that could easily help you out and it is incredibly easy to use. Even though there are instructions in the package, everything is so self-explanatory that you wouldn't really need to use them.
Using a product of the kind could help you overcome some true challenges at the workplace or at school which could really make a difference in your future. Keep this in mind.
Our rating: 5/5
Click here to order your Monkey Dong Kit.
More Info: